Large Format Printers Chicago Offices Depend On
Large format printers are necessary if your Chicago office staff relies on larger documents like CAD drawings, posters, and blueprints. Our premium Ricoh large format printers will be a perfect fit for your business. These devices offer an unprecedented amount of flexibility and quality that your staff can rely on. Art studios, architects, engineers as well as other Chicago business professionals are the focus of these advanced and impressive machines.
What You Get with our Chicago Large Format Printers
Impressive Printing Speed, Convenience, and Details
Larger prints don't necessarily mean longer print times. It takes only a few minutes for our large format printers to give you several pages in color or black-and-white. You can print from your desktops, a USB drive or an SD card.
Our devices also deliver the quality you need reliably. Their high dpi resolutions ensure that your prints have precise details and gorgeous colors. Features like image preview let you check documents for quality and accuracy before you even print them.
On-Board High-GB Hard Disk Drives and RAM
These printers come equipped with a very large amount of memory, which allows you to save thousands of files at a given time. You'll have the ability to pull up documents and distribute them or make reprints faster. All of that means a more efficient and time-saving work environment.
Powerful Security Features
Our devices also have a variety of security features to protect your sensitive information. These include:
HDD Encryption
DataOverwriteSecurity System (DOSS)
Password Protection
Restrictions on device access and usage
You can ensure that people won't use your equipment inappropriately or steal your documents.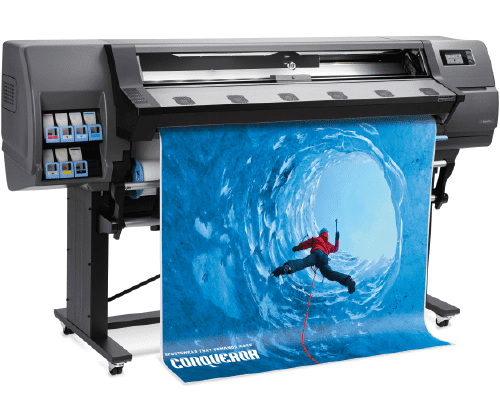 Large Format Copying and Scanning Capabilities
Not only do our wide format devices give you great original prints, but they also give you copies of equal or better quality too.
Some of our available hardware has scanning capabilities as well. You'll be able to save your large-sized documents and share them easily.
Energy-Efficient, Eco-Friendly Designs
Our equipment comes with features like low power and sleep modes to help you use less energy. These help our large format printers qualify for the Energy Star and EPEAT programs.
More Office Technologies
ISBS has many more office technologies to help you increase productivity:
---
To discuss how our large format printers can provide you with great-looking larger documents,